How to chase your dreams seems to be a question with a magical answer. Sometimes the center of everything is passion, perseverance, and discipline; however, when you start the journey of learning how to chase your dreams, you start learning concepts such as courage, resilience, and strength. I have always been an achiever, which means that one of the things I have cared for a lot is the path of how to chase my own dreams and goals. Before I shared information about how to create your own life project, now with the purpose of motivating you to also start your success journey, I share here my opinion about how to chase your dreams.
Before you start checking the list of tips below on how to chase your dreams, please remember that I am not a psychologist, neither a life coach. I am sharing here my own experience and philosophy of life. No being more, enjoy!
Define your dreams
I believe that we create dreams because we have a wish, and wishes come from the lack of something, from a need or an idea. Just as ideas, before defining them as important, one needs to analyze them and determine in which extend they will contribute to real happiness.
In order to do so, I consider it important to define first which areas of life are really important, for example, self-fulfillment, love relationship, social life, professional life, health, family, etc. Once these areas are defined, it is good to prioritize them and figure out what exactly is the best scenario in each of them. To illustrate this a little bit more, we could imagine that in the area of love relationship our best scenario is to find a partner based on respect, friendship (or whatever you want); also in the professional life, our best scenario would be having our own business or being a leader in the industry we work on.
After all the areas are defined and brought down to concrete ideas, then it is good to move to cluster dreams or goals according to those areas of life. One small remark! Dreams are a fancy motivational way in which I call my big goals that contribute to achieving the life I want. If a dream does not help me fulfilling one important area of my life, I simply deprioritize it or drop it, because it was probably the wrong dream or a silly idea.
Warning here! For me, it was really important to define my important areas of life very well and even more important prioritize them correctly. Life is about decisions, so later on you will see how this prioritized list will help you make choices that promote your happiness.
Know yourself very well
If you have a dream and purpose of achieving it, you need to define the resources you need. For example, if I want to study abroad in Italy, I should start listing all the requirements I need to achieve this. Do I need to learn the language before going, save money, look for a university, etc? In many of the cases, our dreams include learning something new, which could cover different important areas of our life. For example, coming back to the previous example, study abroad in Italy could cover different actions that contribute to my professional life (advance in education), social life (new friends), and self-fulfillment (learn something new or have new experiences).
Prioritize, organize and schedule
If you can multitask it is great! However not so effective when you want to really achieve your dreams. Hence it is important to prioritize what you want to achieve first and when.
Managing schedules can be tough sometimes, but totally worth it. What I try to do is to work on max. 5 projects at the same time; of course, I pick the projects according to the focus of my life at the moment and according to their priority towards my happiness. Some people can take more than 5 goals at the same time, however, I know my capacities to do things right, hence I prefer to limit them.
Ideally, your daily schedule should be filled with activities related to your big dreams and routine activities that contribute to your important areas of life. One thing I make sure is that each and every single important area of my life will be represented with one or more activities in my daily schedule. To expand on this topic, here you can find 14 things you need to do daily to achieve your dreams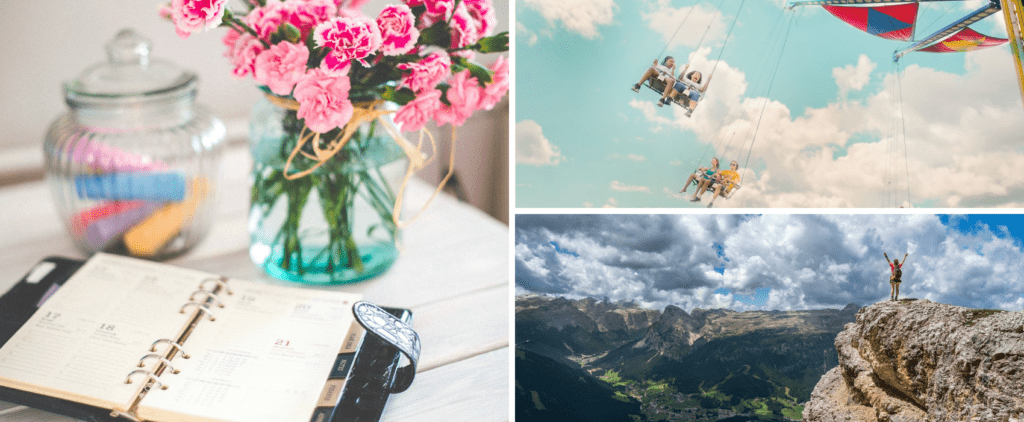 Setup clear realistic objectives
Perhaps my education in business makes me crazy about measuring efforts, hence setting up realistic objectives for each of the dreams helps me making sure I will accomplish the tasks related to them and further on achieving them.
Setting up an objective can be tricky since you need to combine reality with ambition. A clear objective needs to be achievable enough to give you a feeling of success but also challenging enough to help you be motivated. Taking the previous example of studying abroad in Italy, some objectives for the short-term could be: reaching the X level of Italian language, saving X amount of euros for the trip, choosing the University to study, etc.
Take action and have discipline
Now that you have a set list of important areas of life, a list of dreams that match those areas of life, and some objectives to reach your dreams, it is time to take action! How to chase your dreams does not only imply planning, but also imagine, and pretend to work towards your objectives; it actually requires hard work!
If you are trying to acquire a new habit, for example of waking up early, it will for sure be difficult at the start, but consistency makes the difference. Same counts if you need to learn something new, start a new business, devote more time for your family, start a new family, start a new job or whatever is what you have in mind.
I have always thought that taking action and having discipline, requires certain components:
Knowing yourself good enough, so you keep motivated doing whatever you started
Knowing your schedule and upcoming things in life, so there are no unexpected obstacles that could make you stop what you started
Convincing yourself that this is what you really want and need, so inevitable obstacles and failures (because they happen) will not shake you and make you drop what you want.
Stand up from failure
Life is not perfect neither a fairy-tale. Even more interesting, if you pick one successful person that you admire and ask how they achieved their goals and dreams, you will probably hear one or two stories about bumps they got on their way.
Failing can happen even if you are 101% prepared and drafted all the possible scenarios before you started. Even if you knew your schedule, your future, measure all possible inconveniences, sometimes things happen, and we cannot avoid them. But what if we twist failure a bit and transform it in a great opportunity?
Continuing with the study abroad example, imagine you are all set to go and suddenly you were not accepted to the University of your dreams, or you need extra years of studies to be accepted to the degree you want. Would you call this as a failure? Probably yes for the first minutes, hours, maybe for the first weeks right after the news; later it is better to learn from it than to sink in it. If you got an obstacle let's transform it into an opportunity to make it better. Do not desist on that thing you want to get, on the opposite you can:
Put your dream in standby status or archive it for some time (whatever time you need to heal) and focus on another one you can achieve faster and bring you happiness.
Find creative ways to overcome the obstacle you got while chasing your dream.
Work on yourself so that the next time the opportunity of achieving these dreams happens you are 10 times wiser, 10 times more prepared, 10 times more ready to get it.
Regardless of what you decide after experiencing failure, please do not drop your dreams! Life will surprise you and show you a way to get them later. Also, do not close doors to achieving a dream. Sometimes we act with impulsiveness because of emotional or physical pain, remember your north and repeat to yourself that this bad moment will pass soon. Never make decisions in euphoria or depression, because there are more chances to make mistakes.
Focus on happiness along the journey
Shit happens sometimes, right?! So even if you feel that everything fell apart, focus on the things that you have achieved before, in the progress you have had in other dreams, or how well you have balanced the important areas of your life. If life gives you 10 reasons to cry, show to life the 100 reasons you have to smile.
Failure and bad moments are part of life, it is not so relevant what happens to you, but what you become from those experiences.
I hope that what I wrote above will help you define your own guidelines on how to chase your dreams. Believe in yourself and remember that one day discipline will win over intelligence! You can learn anything you want as long as you really want it and are determined to achieve it!